Today began as early as the days before. Our first game against MRL-HSL was scheduled for 8:30 AM. Until then we still had to fix some hardware components. As we were working on our code until late in the night, one could see our exhaustion in our faces. Nonetheless we played a good game, which, unfortunately ended in a loss, but proved that our hard work during the last days was a success.
Our robots fell very badly during the game, damaging parts of our hardware beyond repair and causing major problems during our second game. Therefor Frankenbot now inherited Minibots arm aswell, making him more and more a patchwork-beast. Between the other teams, Frankenbot made himself a name as "Killer" or "Terminator" and is well known. Because there is one thing we could prove during the last days: We are very good at not getting tipped over.
In our free time after the games we went out to explore Teheran. We bought lots of food, spices and sweets at the bazaar and visited a mosque nearby.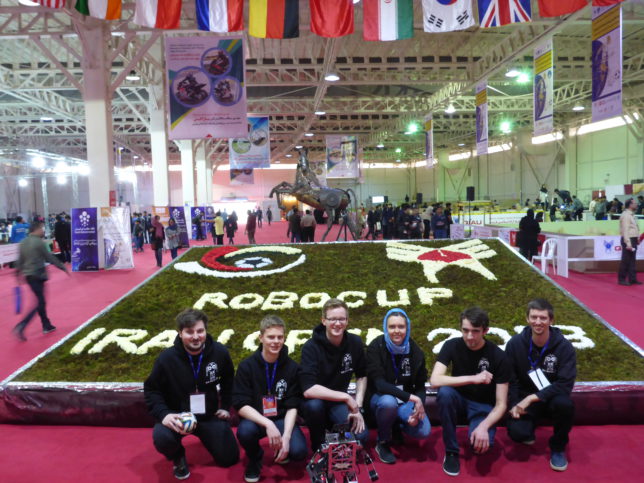 During our third game the hardware problems lingered. By now everything seems to be working again and we hope, our robots won't get hurt again tomorrow.
After the games we had some time to talk to the other teams. We introduced our ImageTagger to the other teams, Rhoban held an interesting presentation about decisionmaking processes during goalshots and ZJUDancer and MRL-HSL showed a part of their works aswell.
We are now making our last preparations for our semifinal-game against Rhoban. We are curious to see the outcome.