In the first week of May we once again went to the German Open, the german championship of RoboCup. After giving our laboratory a good cleaning on Monday we made sure not to forget anything. Then on Tuesday it was time to journey towards Magdeburg where we bought some important groceries for the next few days. Afterwards we spent the rest of the day (and night) preparing for the competition by programming…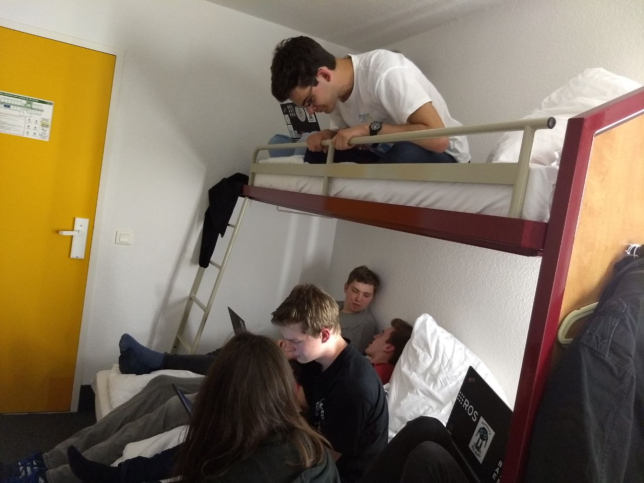 On Wednesday after a good breakfast together we were finally allowed to enter the exhibition halls. Fortunately everything was ready for us to directly start capturing data from the court with the help of our vision robot Davros.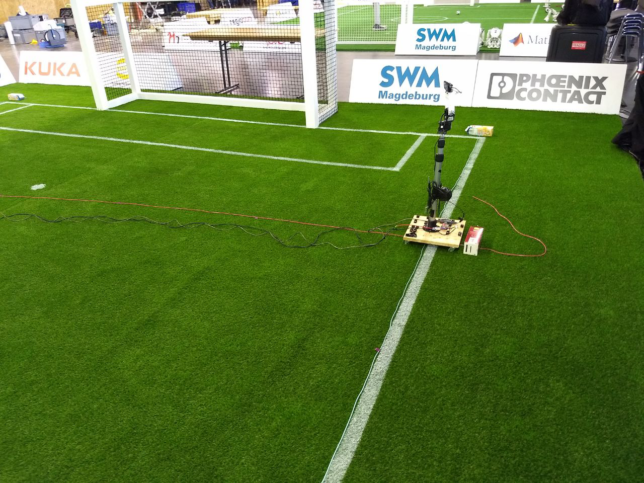 The captured footage will soon be used to evaluate different approaches of implementing a visual compass. A visual compass is supposed to recognize prominent background landmarks and then determining its own orientation. This is quite important to, for example, classify which goal is ours or the other teams.
Afterwards it was time to teach our humanoid robots how to stand up on the new surface.
At the same time our software development team was busy as well. The robots tactics weren't nearly tested well enough to work reliably and there were also communication problems between different parts of our software. Unfortunately we weren't able to completely eliminate all problems before our first game against WF Wolves. But because they were in a similar position we were able to end this game with a score of 0:0. Although we constantly improved most other teams with more stable code were able to beat us in the next few games.
In the last game of the group stage it was a close call. WF Wolves just lost their last game and we were up against Rhoban FC, the current world champion from France. Our hopes were low (rightly so) and the only possibility for us to progress into the semi-final was to achieve a lower goal difference than WF Wolves had. Only because Rhoban FC had networking problems in the second halftime we were able to achieve exactly that. They didn't score enough goals and therefore enabled us to 'beat' WF Wolves.

The semi-final was against the Chinese Team ZJUDancer and their robots nimbly played around our larger ones. They scored multiple goals and we lost that round.
The last game for third place was against Starkit, a Russian team. Since their software and robots was largely bought from Rhoban FC we lost this game as well
But during this game we had the opportunity to reflect how far we have come. From the first game where our robots were barely able to stand to a closely integrated software and hardware system that was able to defend its own goal from an incoming attack and also chose to dribble towards the enemies goal. Although all this is not fully stable and reliable, that's exactly what we're working on right now in preparation of Australia's RoboCup world championship this summer.
We prepared a small summary on Youtube as well.