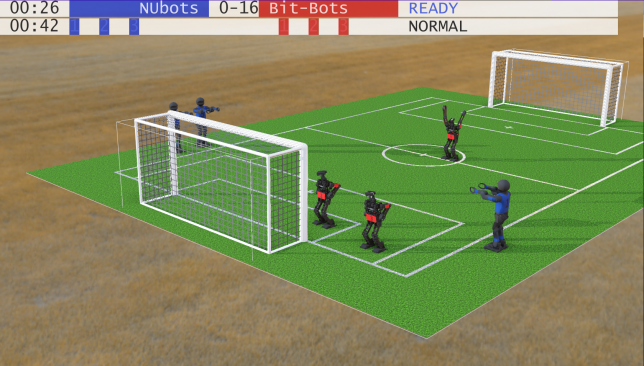 After the exciting game yesterday against the 01. RFC Berlin, we got to play in the quarter final. The drawing for us was to play against the Nubots. They had managed to score another goal in one of their group games, but we were reasonably confident that we could win the game. However, we were still anxious about having a breaking bug in our software that would prevent us from playing and winning against the Nubots.
When the game started, we were very happy, when our robots started walking, as this assured us that we should be able to play normally. The Nubots put up a fight in the beginning, but we managed to score a goal regardless.
Unfortunately, the referee didn't count the goal for us, but instead gave a goalkick to the Nubots. We started to get anxious again, because the referee obviously had a bug there.
However, our robots were less phased than us and just waited their time until they were allowed to touch the ball again and confidently ran to the opposite goal and scored again. This time the referee did score the goal for us and we were up 1-0.
The Nubots didn't put up any defense after this and we managed to score goal after goal. After the first half we were already up 7-0. As the time went on, we got excited about potentially beating the impressive 15-0 score that MRL had scored in a previous group match.
The second half progressed and we managed to beat their result with a single extra goal and finished the game 16-0 according to the official result. If the first goal had been counted for us, we would have maybe managed to win 17-0.
After the game we were told we had more time available than usual, because time is added after a goal in the knock out games, to account for some of the time the robots are not allowed to kick the ball after scoring a goal.
We are now looking forward to playing against Starkit in the semi final tonight at 20:30 (Berlin time).